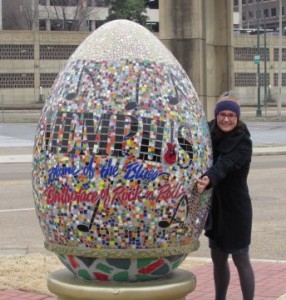 Being a Fulbright FLTA Scholar has been a unique and unforgettable experience, both life and professional. I must confess I was quite concern when I knew the details of my contract: I received an offer of an institution in the north of Missouri, located in a medium-sized town named Saint Joseph, remotely known for being the starting point of the Pony Express in 1880 and the placed where bandit Jesse James was shot and killed. The town is close to Kansas City, a beautiful metropolis only 45 minutes from Saint Joe, but, as I refused to accept and finally had to, there isn't any ways of public transport that connects both cities. So, as I am a "city animal" I was resigned to be bored to death for nine months in the Midwest.
I couldn't be more wrong.
Living in Saint Joe and working at Missouri Western State University has been the most intense and transforming adventure of my life and I would do it over and over with my eyes closed.
This wonderful University offered me the opportunity of being a primary teacher of Spanish, giving me absolute freedom to design 6 beginners courses. From the very beginning I realized the magnitude of the compromise I was taking, and I hope they are satisfied with my performance. Can anybody imagine a better scenario to practice and remodel all the theoretic pedagogy we study formally in our degrees and Master's? I have been free, self-taught and always treated as an equal, and I cannot be more grateful.
The Department of English and Modern Languages is conformed by a wide collective of excellent professionals and better colleagues. They embrace me from the first day of my stay until the last, supporting my cultural proposals (a Tapas Culinary Workshop and a Foreign Film Festival), involving me in the activities of the Department (representing my country at International Fairs and being a jury of the Foreign Languages Day, when the university receives contestants from high schools in the county) and of the institution (which made a Renaissance Festival about La Mancha, my geographical region in Spain, and invited me as a representative and guest of honor).
Their welcoming attitude surpassed the academic, for they made a real effort to show me the area and the Midwestern way of life. They introduced me to local artistic and intellectual collectives, high school and middle school teachers, American sports and native American rites (I will never forget, for example, the time when they took me to South Dakota to see an incredible pow wow, still feel the powerful sensation of remembering the sound of their voices and drums). Those wonderful friends have been the reason for which I got to know the states of Kansas, Nebraska, South Dakota, Iowa, Illinois, Arkansas, Oklahoma and Tennessee, the ones that conform the Midwest of the US and that tourists frequently leave behind when they visit the country. In every single one of them their people couldn't treat me better. I was frequently the first Spaniard (and sometimes, even European!) they met, and their hospitality and curiosity made all my visits memorable.
Last, but not least, I was terribly lucky to share this time with a German Fulbright, Philipp Schmidt, an incredibly intelligent and helpful colleague that helped me every single day I struggled, lost in the bureaucratic sea of papers, in the preparation of my lessons or in the unavoidable home sickness that, sometimes, visited me when I thought on my family and friends in Spain.
It seemed difficult, but it was a huge present that I will remember forever. I made me evolve as a professional and gave me lifelong friends.
Thank you Fulbright!
Clara del Rey Castaño
FFLTA 2013/14 at Missouri Western State University