One year ago I was wondering how would I make it in a baptist town in the middle of nowhere in North Carolina. Now, one year later, I'd do anything to go back to that point and have the chance of living it all over again. Everything, both the good and the bad things. Before landing at Charlotte airport in August last year, I had already lived three years abroad and I thought I knew what to expect but I was wrong. Definitely, I was not expecting to find a second family in America and after spending ten months there that is what I can say.
My experienc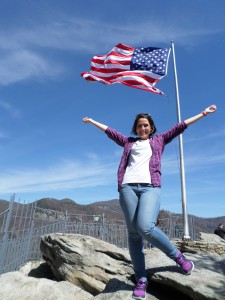 e at Gardner-Webb University surpassed all my expectations. I guess that coming from a big city as Madrid, I am not that used to talking to people I don't know. However, since day one at GWU I had a lot people approaching me just to introduce themselves and offer me their help. Everyone seemed to have time to stop and talk to me and even to show some surprise every time I mentioned I came from Spain.
Boiling Springs, where GWU is located, is a very small town in North Carolina. There are not so many things to do there, there is no cinema, no bar, there isn't even a Walmart! However, there are a lof of people who have made my experience even better. I've learnt to appreciate the life in a small town, where everybody knows each other and everybody is there just when you need them. I've became friends with a lot of people and they've been there in the good moments but also in the bad moments. I'd like to say that my experience there was a bed of roses, but it wasn't: car crushes, thefts, homesickness and some other problems have tried really hard to tarnish my time there, but they haven't. I will always remember the positive things: the smiles and efforts of my students every Monday at 08.00, the excitement before my first football game, the trips to the mountains, the days spent at home baking with my roomates, the cooking sessions with my students, the "y'all can't leave" when it was time to say good bye…and many other things that will accompany me for life.
I've cried a lot, I've laughed a lot, I've traveled more than I could have imagined, I've learnt slang, I've improved my English, I've learnt some Spanish as well, I've made friends from different countries, cultures, religions and races, I've done a presentation on teaching in front of over 50 people, I've interpreted for the ex president of my country at the UN in NY, I've tasted food from other countries and all the fried food that can be found in the South (fried oreos included!), I've learnt the rules of baseball and football, I've watched the Oscars without having to stay up until 6 am, I've witnessed how my fellow Colombian FLTA saw the snow for the first time and how the Argentinian one tried Nutella and fell in love with it, I've felt the joy of sharing my language and my culture, I've learnt American Sign Language, I've been to a drive-in, I've held a snake in my hands, I've crafted Halloween decorations with my fellow FLTAs, I've seen two NBA games, I've eaten smores in front of a bonfire, I've cleaned a river, I've seen some good friends graduating (just like in the movies!), I've learnt how to dance salsa and I've done many other things that will make this year unforgettable, but above all, I've wished this year wasn't over.
Aida Rodriguez Martinez
2013/14 FLTA at Gardner-Webb University