'When we fly into space, we have to take care of the Shuttle, the vehicle in which we are living and which supports us, so carefully… That is one of the lessons we must bring back from space. This planet is our spaceship, and it is taking us into the future; we must take care of it.' Julie Payette, Canadian Astronaut.
This was Julie Payette's farewell to the 2009 International Fulbright Science & Technology Fellows during our graduation from the Program this June. Thirty-five young people from 30 different countries took this message home after spending three days in which we shared the same compartment of the vessel.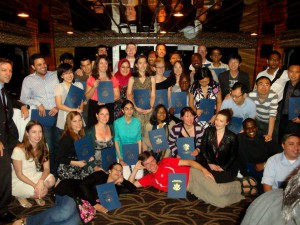 The Capstone Event in Washington DC was just the icing on the cake of having been part of the International Fulbright S&T Program. It was the wrapping up of lessons learned throughout these years, both academically and as a result of the opportunity of being immersed in the US culture and meeting people from at least 30 other different cultures… As always, the S&T seminar exceeded everyone's expectations. Where else would you have the opportunity to walk around the Space Shuttle, have a meeting at NASA Headquarters, enjoy an Ethiopian meal (eating with your hands) while enjoying some jazz music, tour the White House, present your research at the Canadian Embassy, sit in a Conference room in the World Bank where you are the only person representing your country, learn about Entrepreneurship, absorb as much first-hand information as you can hold and, why not, enjoy a cruise with a group of friends?
If you look at the photos you will see the most diverse group of people, from all ethnicities, religions and backgrounds, but all with similar goals and values and all willing to learn from one another, share their cultures and passion for science and education. And that too we all take home from this three-year trip with Fulbright.