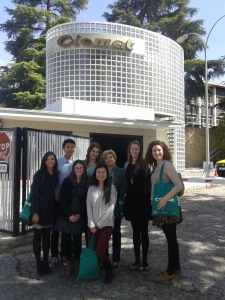 The Fundación Consejo España-EE.UU. and the Fulbright Commission in Spain recently organized the third annual Programa de Visitas Fulbright. This program invites Fulbright grantees to explore public and private enterprises in their fields of scientific research. This year, it took place from April 27-29th in Madrid, and in attendance were seven Fulbright graduate researchers from the fields of biology, biochemistry, and inorganic chemistry. On the first day of the program, we visited two research institutions and a private foundation devoted to supporting scientific pursuit.
We began with a tour of the Centro de Investigaciones Energéticas, Medioambientales y Tecnológicas (CIEMAT). There, Drs. Fernando Larcher and Marcela del Río Nechaevsky spoke to us about their research on rare skin diseases and skin regeneration. This particular visit happened to be my favorite. My research background is in the field of regenerative medicine, and I found Dr. Larcher's work on tissue engineering absolutely fascinating.
Next, we visited the Centro de Investigaciones Biológicas (CIB), where we had the opportunity to visit laboratories and hear presentations from three of the institution's principal investigators. Finally, we visited the Fundación Ramón Areces which supports Spanish scientists conducting research abroad, as well as foreign visiting scholars to Spain. All in all, I think this program was a great opportunity for Fulbright grantees to learn about scientific research in Spain, especially if they are interested for future post-doctoral study.
Katherine Lee
Fulbright Graduate Research Scholar
Institut d'Investigacions Biomèdiques August Pi i Sunyer
Stanford University, Human Biology B.A.