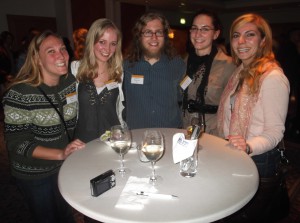 I was incredibly humbled and proud to represent the Spanish Fulbright Commission at the 58th Berlin Seminar, held from March 18-22, 2012 in Berlin, Germany.  This seminar broadened the scope on the Fulbright Program and exposed me to the inspiring work– both research and teaching –happening all around Europe.  The ten participants from Spain and five from Andorra had the opportunity to know one another better as well as meet over 500 attendees at the conference.
As this Seminar took place just over three weeks since our Mid-Year Meeting in Valladolid, Spain, in which we had valuable self-reflection and emerged with new ideas to implement into our final Fulbright months, I wondered what new insights might be in store for this week.  This Seminar exposed some of us for the first time to a large number of Fulbright alumni, who helped foster some thoughts about tying our experiences abroad to our life's work.
Additionally, since this conference was held in Berlin, I developed an emotional connection to Germany through contact with the places and people that has ignited a desire to learn more about German culture and language.  Having access to the Head of the State Chancellery, Björn Böhning, for example, was a special opportunity to hear directly from an official in the German government who represented Berlin as being a forward thinking, sustainable, culturally rich city.  We had the chance to choose one of five city tours, of which I chose "Berlin Architecture- From Prussia Until Today."
The two main themes I drew from the speeches and panels were the importance of networking and the impact of Fulbright on one's life.  Networking, or "mingling," does not need to be a contrived way of getting to know people, but should instead be based on forging meaningful connections that inspire people to work together.  The Keynote Speaker, Thomas Sattelberger of Deutsche Telekom AG, looked at networking from an organizational psychology standpoint, pointing to many examples of networks throughout the 21st century with varied intents and purposes.  Since my interests include organizational functioning and social change, I found this talk particularly fascinating.
Ultimately, what made the conference so worthwhile was exactly what was most amazing about Valladolid: meeting lots of people and exchanging ideas, experiences, and cultural impressions.  The Fulbright project presentations were engaging and diverse, covering everything from Seventeenth Century Venetian Opera to Climate Change and the Deep-Sea Invertebrate Community. I enjoyed a presentation about "The Better World Shopping Guide," about one Fulbrighter's mission to create a German version of the book that helps American consumers make better buying choices.  I sat on a panel entitled, "Europe at a Glance- Impressions of U.S. Fulbrighters" and discussed my work as an English Teaching Assistant in Madrid.  Fulbright talent was also on display at the Music Gala, put on for the past 30 years at the Berlin Seminar.
As I leave Germany, I will vividly remember the human encounters: walking along the Unter den Linden, sitting in a café converted from a two-story bus, eating street-vendor sausages, dancing at the "Frannz Club" Kulturbrauerei, enjoying the t-shirt weather on a grassy lawn, and other such moments while chatting with Fulbrighters working in places as wide-ranging as Slovakia, Cyprus, Bulgaria, and Luxembourg.  These connections can lead to beautiful friendships, visits to new cities, collaborations, and professional doors opened.