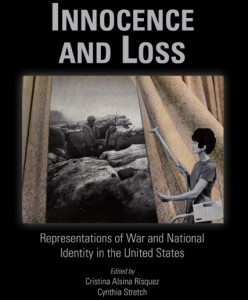 The seeds for Innocence and Loss: Representations of War and National Identity in the United States were planted by the Fulbright Program when they awarded Cynthia a Fulbright Grant to teach at the Universitat de Barcelona, Cristina's home institution, in the fall of 2005. That was the first time we worked together and shared our views on literature; it was also the time we discovered our shared passion for certain novels, our shared world-view, and our desire to continue working together. The Fulbright Program made that possible by granting Cristina a Scholar-in-Residence fellowship to teach at Southern Connecticut State University, Cynthia's home institution, in the fall of 2008. Our on-going collaboration would not have happened without the vision and the resources of the Spanish Fulbright Commission.Of the many connections made by each of us during our stays abroad, two in particular have benefited our home institutions.  Cristina's work for the Centre Dona i Literatura was of particular interest to the faculty of the Women's Studies Program at Southern.  Her courses at Southern were cross-listed and drew students from multiple departments.  When the journal she co-directs, Lectora: revista de dones i textualitat, suggested the possibility of a special issue on indigenous feminisms, Cristina called on Dr. Tricia Lin, the chair of the Women's Studies Program at Southern and then- President of the National Women's Studies Association in the US.  The forthcoming issue strengthens the link between the two institutions as well as introduces the work of the Centre to other women's studies programs across the United States.
While in Spain, Cynthia learned of the activities organized by the Spanish Association for American Studies.  When she returned to Barcelona for their 2009 conference, she met Elena Ortells Montón, a professor at Universitat Jaume I in Castellón.  In 2013, students from Jaume I and Southern participated in the first direct exchange between the two universities.  This exchange involves multiple faculty members from various departments in administration and teaching.  But more importantly, it provides a life-changing opportunity for our students.
When we first met in the chaos of apartment hunting, computer set-up, and introductions to office mates, we had little idea that our new friendship would eventually affect so many of our colleagues and students.  But in hindsight, all of those connections have been the organic outcome of what the Fulbright Program is working so hard to facilitate.  Our story is but one of many.  We encourage current and future Fulbrighters to seek out ways to extend the experience beyond the limits of their stays abroad.
Dra. Cristina Alsina Rísquez
English Studies – UB
Fulbright 88′
Co-directora de Lectora: revista de dones i textualitat –