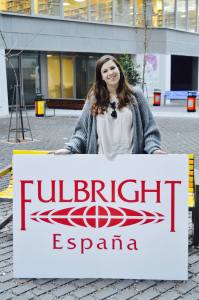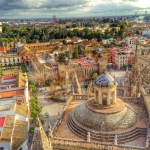 Each year, the Fulbright Commission sponsors a mid-year seminar in conjunction with a Spanish university in order to give grantees an opportunity to reconnect, to discuss their evolving ideas, to share the progress of their individual projects, and to increase their knowledge of Spain by visiting a new city. As fate would have it, the 2016 seminar was hosted in Sevilla, the first Spanish city I ever visited, seven years ago.
When I arrived in Sevilla in July 2009, I had no idea what to expect. I was participating in a Spanish language immersion program. As a rising high school junior, traveling to Spain seemed like venturing to the far side of the world. Equipped with only basic high school Spanish and a rudimentary understanding of Spain's culture and history, I embarked on a whirlwind tour of La Catedral, Los Reales Alcázares, Plaza de España, and countless other hidden jewels of the city.
Everything was new to me in Sevilla. Case in point: My first evening in Spain, I had to be rescued from my hotel room's restroom because I could not unlock a Spanish door. Sad, but true. I had decided to shower after a long day of travel and was supposed to meet the group in the hotel lobby at around 8 p.m. Problem was, I was locked in the restroom because the Spanish door simply would not give. An hour or so later, two hotel employees heard me screaming for help, entered the room, and after some strained communication with my limited Spanish and their non-existent English, they broke down the door. It was the most embarrassing thing that had ever happened to me (now we laugh), but it would also prove to be indicative of the rest of my time in Sevilla. I tried my best to immerse myself in Spanish culture and language, but often relied on others for help, be it to kick down a restroom door, or more simply to help me communicate.
Seven years later, a similar sentiment echoes at the mid-year seminar in Sevilla. As Fulbright grantees, we are trying our best to immerse ourselves into Spanish society, but we still rely on each other for help and inspiration. That is the purpose of the mid-year seminar: to remind each other of the goals of this program and to be re-energized, ready to make the remainder of our Fulbright grants as successful as possible.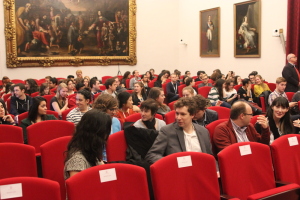 One session that truly inspired me was a talk given by Senior Researcher Sasha Pack. Pack is researching the geo-historical conflict between Spain and Morocco in a work titled The Deepest Border: The Strait of Gibraltar and the Ibero-African Borderlands, 1850-1970. During his talk, Pack questioned the utility of the notion of "borders" as they exist in the post-modern age. He continued to describe the relevance of his research to our grant period in Spain; thousands have suffered in Europe during the refugee crisis the continent presently faces.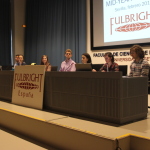 The presentation was followed by several other sessions just as interesting and productive.
One salient discussion session was an evaluation of our work as either IE Business Students, English Teaching Assistants or researchers. I sat with the some other ETAs in Semenario 4.3 and it quickly became apparent that despite sharing a job title, we all have quite different experiences. However, our obstacles unified us. All of us have had to deal with adapting ourselves to the Spanish classroom; some have found more success in this endeavor than others. I recall a discussion on the impacts of tracking in Spanish high schools. Some ETAs saw students thrive in this environment, while others commented that they believe their students are stunted by this system. Though each ETA serves a different role in his or her classroom, the camaraderie among us was tangible.
Returning to Sevilla for the mid-year seminar reminds me of how far I have come and how much farther I still have to go. I am thankful to the Fulbright Commission for organizing this wonderful conference, to the Universidad de Sevilla for their hospitality, and for the opportunity to hit reset, to reflect, and to approach the last five months of my grant with a renewed openness to new experiences and opportunities.
Rachel Waltman 
2015 Fulbright Teaching Assistant – IES Velazquez, Madrid